Our friend and fan Nikolaos Paparidis (nikkpap) is sharing his experience when it comes to restoring 'the bricked'  Beelink GT1 Ultimate after flashing the wrong custom ROM. This is something that can happen to any of us since there are several custom ROMs for the GT1. First, please make sure you know the exact type of model you own. There is the Simple GT1 and the Ultimate with the latter released with two different chips, easily identified from the S/N written under your box. One should start with 706D0 and the other 70xΝΟ.
In our example, we used the GT1 with a 706D0 chip.
We are going to need a Windows PC and a male-to-male USB cable.
Procedure:
1. We install  Usb Burning Tool 2.0.9  in the Windows PC
2. We download the GT1_706D0_AP6255  file.
3. We connect the male-to-male USB on the right with the PC
4. From the USB Burning Tool, we select Erase Flash -> Normal erase and include Erase bootloader
5. Press Start
6. Short-circuit the 2 pins that you can see marked as red at the pic below, release and short-circuit again, then repeat and wait until you hear a continuing sound and the procedure recognized from the Burning tool and start.
In the pic below, you can see the 2 pins marked with blue. Those are the ones to short-circuit on the GT1 model with S/N that starts with 70xΝΟ.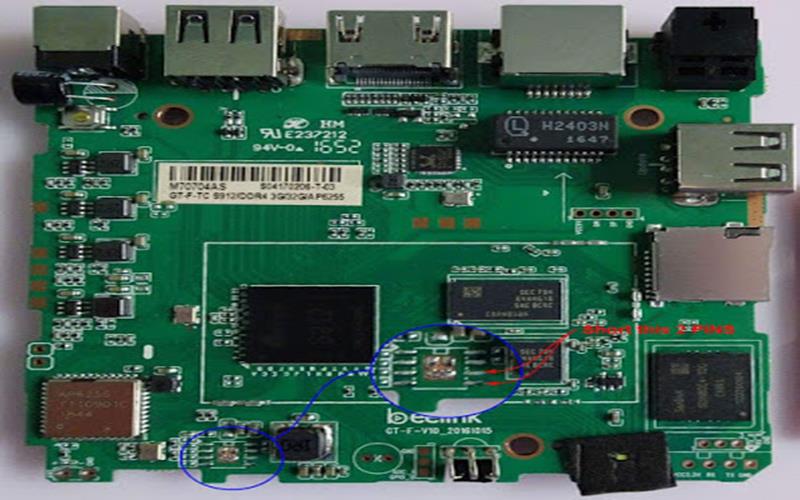 Here you can find a collection of the available custom ROMs and choose the correct one for your model.
Good luck!!!
Find the best price for the Beelink GT1 Ultimate on the affiliate link below:
Beelink GT1 Ultimate 3GB DDR4 + 32GB EMMC TV Box – EU PLUG